2023 Business After Hours
The purpose of the Blowing Rock Chamber of Commerce Business After Hours is to provide networking opportunities for our members, giving business owners a chance to meet one another and to discuss issues relevant to their businesses and the community. The Chamber strongly encourages member-to-member business whenever possible, making these events a critical part of keeping in contact with other members.
Hosting a Business After Hours gives you the chance to showcase your business/organization to the business community. These events are typically scheduled for the 3rd Tuesday of each month, March through November (except July). Hours are 5:30pm – 7:00pm.
If you are interested in hosting a Business After Hours in 2023, contact Cathy Barker at the Chamber at Cathy@BlowingRock.com or call 828-295-7851.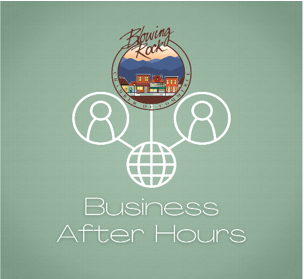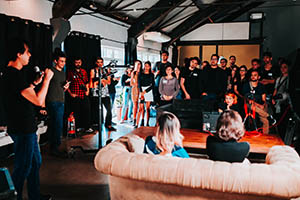 2023 Business After Hours Schedule
March 21– BRAHM (James Pearson)
April 18– High Country Care Givers (Jacob Willis) and Chetola (PJ Wirchansky)
May 16– Blowing Rock Furniture Gallery (Rhonda Smith)
June 8 – Overlook Barn & Carolina West Wireless w/ Boone Area Chamber, Avery, Banner Elk & Beech Mt. TBD
June 20– WAMY Community Action/Savored Moments Travel ( Allison Jennings and Yolanda Robertson)
August 15– MBA Roofing (Josh Elliott)
September 19– Holiday Inn Express of Blowing Rock (Vonda Damson)
October 17- Blowing Rock Frameworks & Gallery, LTD (Tim Miller)
November 21– TBD
Frequently Asked Questions:
The First Word is Business!